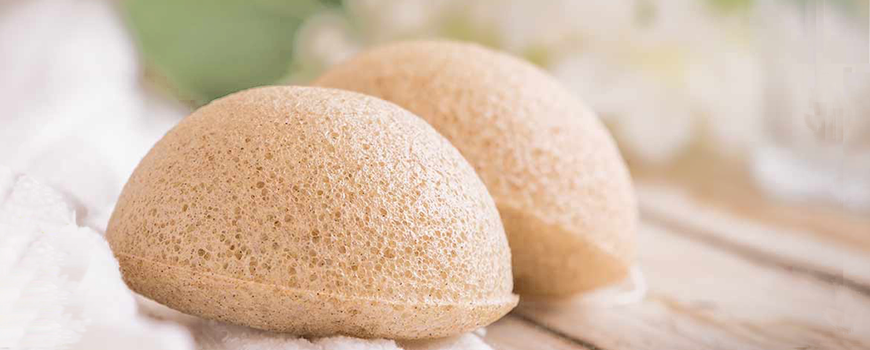 ---
The original and best konjac sponges with the purest konjac and mineral rich extracts. Deeply cleanse, exfoliate and detoxify skin for a radiant complexion. Gentle enough for sensitive skins and babies, these pure konjac sponges are the ultimate in natural, effective skin care. The Konjac Sponge Co. is proud to carry the Leaping Bunny and Vegan Society symbols as signs of their commitment to producing natural, cruelty free skin care. All the sponges are made by hand and tested for authenticity and purity. All konjac sponges are 100% biodegradable and safe for the environment.
KONJAC SPONGE CO.
konjac-sponge-co
Konjac Sponge Puff with Bamboo Charcoal
Packed with mineral rich activated carbon, the Konjac Sponge with Bamboo Charcoal deep cleans skin pores to eliminate blackheads and dirt whilst absorbing excess oils and toxins. A natural antioxidant, it kills stubborn acne-causing bacteria and is an effective natural treatment for acne sufferers.
KONJAC SPONGE CO.
konjac-sponge-co
Mini Konjac Face Sponge Puff with Bamboo Charcoal
This Mini Face Konjac Sponge gets its colour from antibacterial and detoxifying bamboo charcoal. Therefore, it is the perfect cleansing tool for oily and acne prone skin types. Its mini shape is the ideal size for targeting and refining pores, it reaches deep into creases around the nose and chin where larger pores can develop.
JOVEDA
joveda
Acne Stop Skincare Set for oily skin
4 skincare essentials to take care of oily skin: Konjac Sponge Puff with Bamboo Charcoal The Konjac Sponge Co., Organic Liquid Soap Tea Tree Dr. Bronner's, Neem Purifying Cream Joveda and Aloe Vera Moisturizing Lotion Joveda.