Konjac Sponge Puff with Green Tea
Antioxidant rich Green Tea has been added to this Konjac facial sponge, making it suitable for those who want the repute health benefits of green tea. Green tea extract is naturally rich in antioxidants, which has a cell-protecting function as well. It's a strong antioxidant effect that protects the skin from the damaging effect of free radicals. Particularly suitable for those who wish to protect skin from ageing and has a softening and plumping effect to improve elasticity and refresh your skin's appearance.
Garanties sécurité (à modifier dans le module "Réassurance")

Politique de livraison (à modifier dans le module "Réassurance")

Politique retours (à modifier dans le module "Réassurance")
SIZE: approx. 8 cm in diameter and 3,5 cm deep
For all skin types. With benefits of Green Tea, naturally rich in antioxidants.
Made with nothing but 100% top quality food grade Konjac (Konnyaku) plant root.
Konjac is reputed for its health giving properties used by the Japanese for over 1500 years, having originally been used as a medicine in the sixth century. A naturally moisture rich plant fibre which is by nature alkaline, and thus balances the acidity of the skins impurities and oils.
Made on the volcanic plains of UNESCO protected Jeju Island in South Korea, this pure Konjac is free from chemicals, colouring, additives and irritants. 100% biodegradable and fully sustainable, this naturally moisture-rich plant fiber has alkaline properties for perfectly balances skin.
- Gentle, deep-cleansing action
- Retains the natural pH balance of the skin
- Gently exfoliates skin to create a natural glow
- when moist, the texture becomes wonderfully soft & gentle
- for face and body
100% Natural Sponge
100% Colouring Free
100% Additive Free
100% Biodegradable
Naturally Sustainable
Environmentally Safe
Naturally Moisturising
Can be used with or without a cleanser
CRUELTY FREE - VEGAN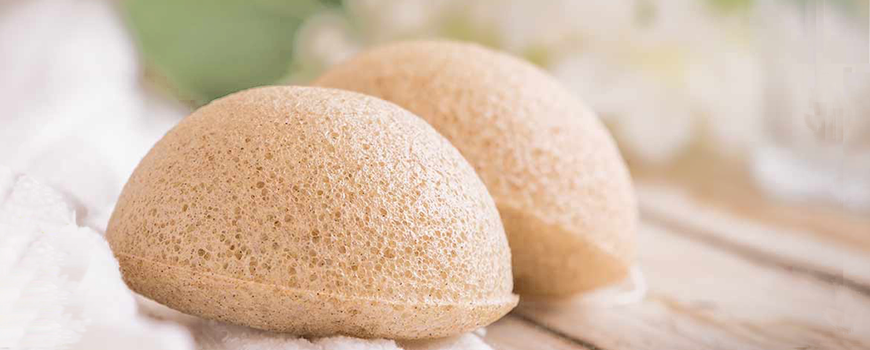 ---
The original and best konjac sponges with the purest konjac and mineral rich extracts. Deeply cleanse, exfoliate and detoxify skin for a radiant complexion. Gentle enough for sensitive skins and babies, these pure konjac sponges are the ultimate in natural, effective skin care. The Konjac Sponge Co. is proud to carry the Leaping Bunny and Vegan Society symbols as signs of their commitment to producing natural, cruelty free skin care. All the sponges are made by hand and tested for authenticity and purity. All konjac sponges are 100% biodegradable and safe for the environment.