Sun Flower Golden Beige Tinting Fluid 50ml
Best suited for warmer skin tones. Tints, illuminates and evens out your skin tone. Northern Rose Hip extract and natural pigments instantly hydrate and perfect the skin's appearance.
Garanties sécurité (à modifier dans le module "Réassurance")

Politique de livraison (à modifier dans le module "Réassurance")

Politique retours (à modifier dans le module "Réassurance")
SIZE: 50ml Pump Bottle
Hydrates and illuminates
MADARA's Sun Flower Tinting Fluid masks imperfections and fine lines, leaving skin fresh and radiant. A lighter alternative to foundation. Available in two shades.
- tints, illuminates and evens skin tone
- masks imperfections and fine lines
- certified organic
MADARA's Tinting Fluid is also available in travel size 15ml pump bottle.
The special bioactive plants contained in this product are grown and harvested in the extremely cold Scandinavian climate of Northern Europe, by the Baltic Sea. Their reduced growing season for plants is scientifically-proven to increase their potency.  
Natural Active Ingredients:
Rose Hip: extract is obtained from fruits of Rosa canine. Rosehip extract contains several antioxidants and vitamins, especially vitamin C, that protects skin from free radicals; slows down the aging process, stimulates skin regeneration; has antiseptic and skin lifting properties. 
Rose Damascena (rose distillate): also called rose water is derived from rose petals. Rose distillate has soothing, astringent and cleansing properties; stimulates blood circulation in fine capillaries, helps to minimise the appearance of scars, micro-wounds, sunburn and wrinkles; provides the natural and delicate fragrance of roses. 
Mica: a natural mineral that can be found in rocks and sand. Pure nature-identical mica is used in natural cosmetics to give the product a glittering or sparkling effect. Depending on particle shape and size, mica can be in golden, silver, bronze and other shades. Mica has large particle size, that does not penetrate skin. It is safe, stable and non-allergic ingredient.
Iron oxides are inorganic pigments or mineral pigments, which are commonly found in nature.  Pure iron oxides are used to colour food and cosmetic products. Iron oxides have several colours – yellow, red, and black. They are often used in make-up and decorative. Compared to organic-synthetic dies, iron oxides are safe, stable and non-allergic.
Sunflower oil:  an excellent carrier oil with good skin soothing properties. Thanks to vitamin E content, it adds anti-oxidant value to cosmetic products.
Jojoba oil: one of the most valuable oils in cosmetics because of its moisturising, penetration and skin-feel properties. This oil is markedly similar to the structure of fat (sebum) in human skin. As a result, jojoba oil can be quickly absorbed into skin, moisturising it, and facilitate the absorption of active ingredients.
Calendula: extract is obtained from flowers of Calendula officinalis; antiseptic properties, it treats various skin problems; destroys free radicals and acts as a natural UV filter.
Chamomile: extract is obtained from flowers of Chamomilla recutita; moisturises, softens and purifies skin; anti-inflammatory, anti-irritant, calming and regenerating properties.
Algae: extract is obtained from seaweed; algae extract covers skin with a protective and moisturising layer; nourishes skin with minerals; improves cell metabolism and skin elasticity. 
Plantain: extract is obtained from leaves of Plantago major; promotes renewal of damaged skin cells; stimulates collagen synthesis to improve elasticity and firmness of skin tissue; helps to eliminate excess water from body tissue; creates a protective and moisturising layer on skin.
MADARA Cosmetics are about ecology and a belief that natural ingredients are the best protection for our body and mind. MADARA natural and active ingredients help to fight distress, illnesses, allergies and other harm caused by environmental pollution and human alienation from nature. MADARA's formulas are based on pharmacological research and specially formulated to encourage the skin to restore its natural balance.
ECOCERT - CRUELTY FREE - VEGAN - GLUTEN FREE - NUT FREE

Data sheet
Category

Makeup

brand

MADARA COSMETICS

skin type

all skin types

texture

tinted cream

ingredients

vegan

skin tone

all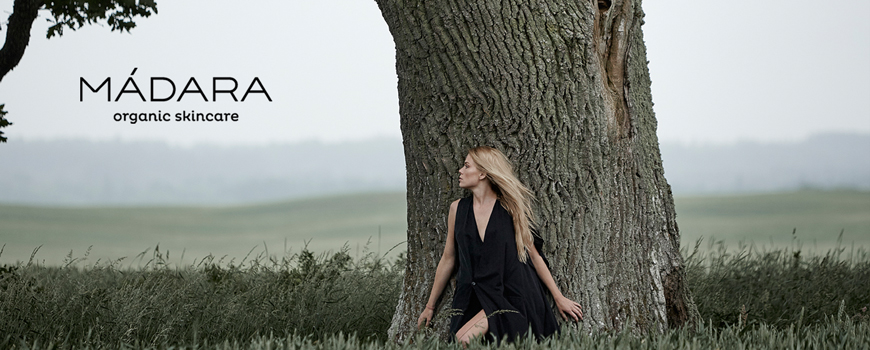 ---
Madara began in 2006 with the passionate desire of four young Latvian women for a greener, more beautiful, cleaner and safer life. The girls named their dream after Madara – a mysterious plant that had grown in the meadows and seaside dunes of the north of Latvia for hundreds of years. Madara's preparations are based on pharmacological research and specially formulated to encourage the skin to restore its natural balance. Madara cosmetics contain organically certified natural extracts and oils from plants growing in the Baltic region and possessing the unique intensity of active substances. The effectiveness of Madara cosmetics has been dermatologically tested. The entirely natural and ecological face, body and hair care range is certified according to the international ECOCERT standard. Madara skincare products are non-tested on animals and vegan friendly.