The house féret parfumeur 
A family history from the past to the present
---
The House of Féret Parfumeur is part of the history of French perfumery. Established in Paris, Tunis, Casablanca, Marseille and Alger from 1878, for nearly a century it disseminated the prestige of French cosmetic products. Market leader in the distribution of such names as Nivea, Pantene,Bourgeois, Colgate, Cutex, Pétrol hahn until the 1970s, it also manufactures and distributes Bloc Hyalin and Hyalomiel cream.
All this time, Féret Parfumeur has been passed down from father to son.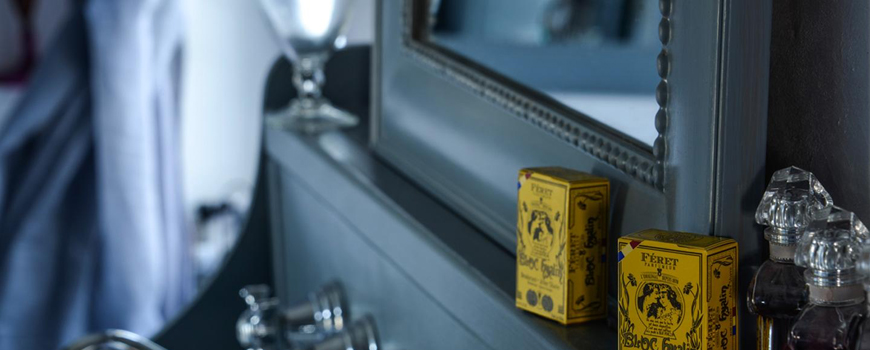 Today FÉRET PARFUMEUR is benefitting from a new lease of life with the development of the marketing of Bloc Hyalin and Hyalomiel. Alexis Cabanne, great-great grandson of the founders, is once more taking up the family tradition of integrating Féret Parfumeur into the world of high-end cosmetics.
---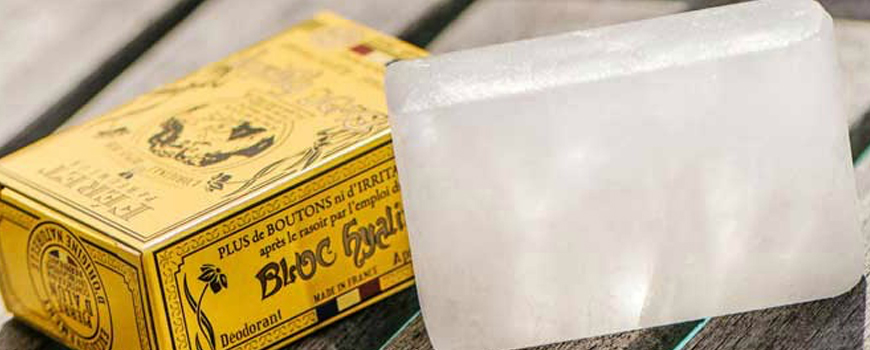 Féret Parfumeur has been manufacturing Bloc Hyalin in France since 1878. The ongoing search for the purest quality necessitates the selection of the deposits of crystal of Pierre Alum (Potassium Alum) for the production of the bloc. These deposits are currently to be found in Panama.
The unique process of manufacture, which consists of melting the mineral (in order to eliminate the impurities) and reconstituting it to give it its define form, is carried out in specialised French workshops.
The control of this different processes and this know-how allows Féret Parfumeur to market a pure and transparent 100% Pierre d'Alum Bloc Hyalin of natural origin. (Certified by an independent Body). 
100% natural origin! 
Pour Madame et Monsieur !
Bloc Hyalin consists exclusively of 100% alum stone, a mineral of 100% natural origin. 
The many wonderful properties of Bloc Hyalin have been recognised since the beginning of time: softening, hydrating, astringent, cauterising, anti-bacterial, non-allergic, and deodorant.
---
Bloc Hyalin may be used in a variety of different ways, from shaving to deodorising. Each stone is hand cut and its edges are rounded for easier use and application. As it is handmade, each stone is unique.
Deodorant: When wet and passed through parts of the body to be treated, the invisible film of minerals created, prevents the formation of bacteria that cause unpleasant odours. This active, invisible film is formed by millions of micro-crystals and provides a feeling of natural freshness, while ensuring effective protection. Efficient up to 24 H.
Athletes: Bloc Hyalin is frequently used by athletes (on sweaty hands and feet) and it ensures effective and totally natural hygiene throughout the day, without staining clothes.
Without alcohol, odourless and hypoallergenic: the Bloc Hyalin is ideal for users who should not wear perfume (sommeliers, waiters, wine tasters, medical professionals, etc..) and also those who do not want a conventional deodorant disrupt the essence of their favorite perfume. If you miss the scent, you can wet your Bloc Hyalin with an essential oil or a floral water instead of water.
---
HYALOMIEL Hyaline Clear Jelly for your hands with organic honey from France and delicate powdery rose fragrance.
Despite the seasons, retain the freshness of your complexion, the delicate scent for your hands, for your skin the gentleness of honey.
Hyalomiel, the inimitable Hyaline Jelly has been nurturing your beauty and your looks for more than a century.
Moisturizing*, soothing, refreshing.
* moisturizes the outer layers of the skin
Nature has its own laws and day after day your hands face its challenges with passing time. It is easier to prevent ageing than to repair it. An effective daily treatment is essential.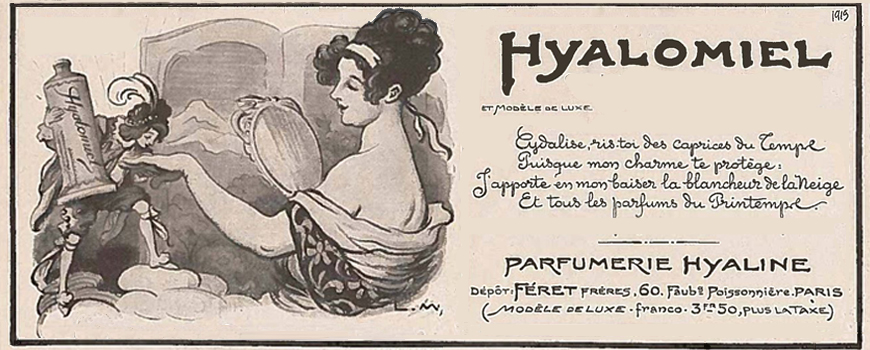 Using Hyalomiel generously throughout the year gives your hands the freshness and the elasticity of youth. Hyalomiel beautifully moisturizes, soothes and refreshes.
No synthetic process can replace the honey and rose that constitutes your Hyalomiel ...
* moisturizes the outer layers of the skin
Paraben free.
Non-greasy formula.
Penetrates immediately.
Feret Parfumeur's Hyalomiel formula has been developed to care for the most sensitive skins.
Utilisation: Hyalomiel maintains the softness and suppleness of your skin and is particularly recommended for the care of hand and feet.
---
This incredible history of Féret Parfumeur has left a veritable treasure made up of advertising, old publicity material, catalogues, original packaging and press articles.
This is what drives Alexis Cabanne today to want to re-launch a complete range made in France that remains true to the identity of the brand.