Tea Tree - antiseptic, perfect for oily skin. The classic, 100% biodegradable blend creates a soft, lavish lather with certified organic extra virgin coconut, olive, jojoba and hemp oils blended with organic pure essential oils.
SIZE: 140 g bar soap
Dr. Bronner's - Number 1-Selling Natural Brand of Soaps in North America.
Gently clean both your hair and body using this vegetable-based soap that's USDA Certified Organic and Certified Fair Trade.
The organic orange, lemon, and lime stimulate the skin and invigorate the body, resulting in a truly refreshing shower experience.
- Completely Biodegradable and Vegetable-Based
- Made with Certified Fair Trade and Organic Oils
- No Synthetic Foaming Agents, Thickeners or Preservatives
- Wrapped in 10% hemp-flax / 90% post-consumer recycled paper from Living Tree Paper Co.
- Simple, Ecological Formulations Based on Old-World Quality and Expertise
Dr. Bronner's Bar Soaps are available in 9 fragrances:
Citrus Orange - Tea Tree - Cherry Blossom - Rose - Lavender - Peppermint - Baby mild - Almond - Eucalyptus.
CRUELTY FREE - FAIR TRADE  - VEGAN

All Dr. Bronner's soaps are not only certified by Oregon Tilth to the same rigorous USDA National Organic Program standards that certify organic foods, but also are certified Fair Trade by the respected Swiss certifier IMO.
No Animal Testing and Cruelty Free. 
Secure Payment
Credit Card - Paypal - Bank wire
Free shipping for orders over 49€
or Click & Collect - Paris 9th
Have a question ?
hello@officina-paris.fr
Ingredients
Saponfied Organic Coconut Oil*, Saponified Organic Palm Oil*, Saponified Organic Olive Oil*, Organic Glycerin, Water, Organic Cannabis Sativa (Hemp) Seed Oil, Organic Simmondsia Chinensis (Jojoba) Seed Oil, Melaleuca Altenafolia (Tea Tree) Leaf Extract, Sodium Chloride, Citric Acid, Tocopherol (Vit. E).
* CERTIFIED FAIR TRADE INGREDIENTS  ** None remains after saponifying oils into soap and glycerin
Vegan friendly. Made in U.S.A.

How to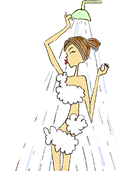 Gently foam with a little water and apply evenly on your skin.
Valuable organic coconut oil provides a natural, silky lather, while the nourishing properties of organic jojoba oil ensure that your skin doesn't dry out. Because Dr. Bronner's only use the purest, most natural ingredients in our soap, your skin will be squeaky clean. Organic palm oil gives the soap its pleasant, firm texture. It cleanses gently and leaves a natural, subtle fragrance of essential oils
You can take Dr. Bronner's soap with you on hikes and use it when you bathe in lakes. You can use it on every part of your body, and it's 100% biodegradable. Dr. Bronner's doesn't let anything touch your skin that can't touch nature too.
Avoid getting natural soap with no chemical additives in your eyes.
In case of contact with eyes, rinse with clean water.
Product Details
Data sheet
| | |
| --- | --- |
| Category | Body care |
| Category | Skincare |
| Brand | DR. BRONNER'S |
| Skin type | all skin types |
| Texture | solid |
| Ingredients | vegan |
| Ingredients | antibacterial |
| Scent | spicy |
You might also like
4 other products in the same category: