---
Cult brand!
Pure natural cosmetics since 1858
---
 
The american brand Dr. Bronner's is recognized worldwide for it's natural certified organic and fair-trade soaps as well as for their natural organic cosmetics and their strong support for sustainable agriculture and animal protection.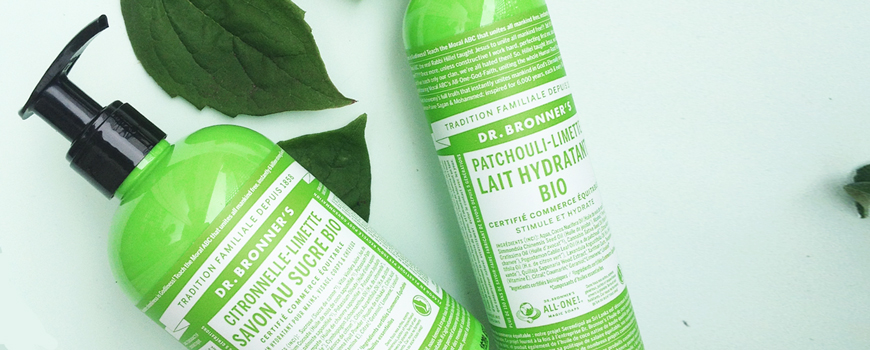 Dr. Bronner's cosmetic products are made with natural ingredients: certified organic vegetable oils and precious organic essential oils. they are free of petrochemical compounds, free of synthetic preservatives, free of synthetic surfactants, Foaming agents and thickeners.
"We are All-One or None!"
---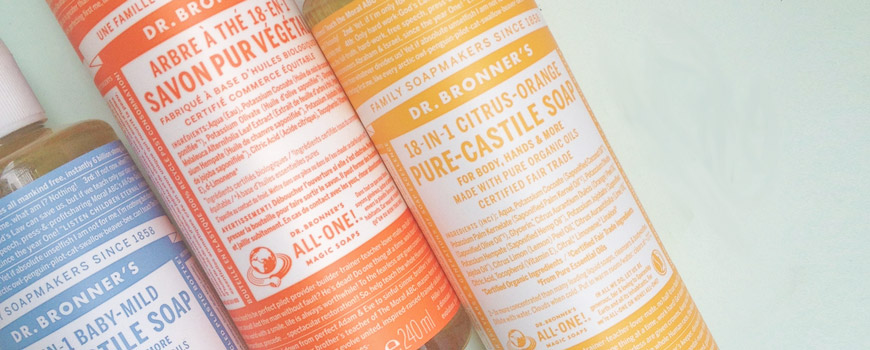 High quality! You can feel the difference
Dr. Bronner's soaps contain no synthetic foamers, thickeners, preservatives or petrochemicals. 
Because of their high quality, they are ideal for allergy-sufferers and sensitive skin. Thanks to their velvety lather that refreshes the skin and makes it silky smooth, they not only cleanse effectively but also provide the skin with the perfect basis for regenerating.
The result : an incomparable feeling of cleanliness and freshness.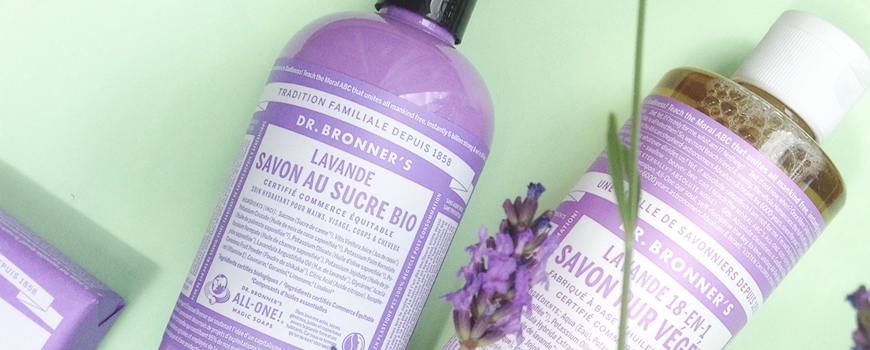 Certified organic and fair trade !
Dr. Bronner's stands for a sustainable lifestyle. Controlled organic cultivation guarantees that raw materials are of the highest quality, and cultivation methods that are sustainable in the long-term.
---
Dr. Bronner's supports small farmers who are taught how to boost their productivity with biodiversity, so that their fertile soil is preserved for future generations.
Dr. Bronner's pays the producers fairly, independent of world commodity prices.
The company's profits are invested in training and local infrastructural improvements, guaranteeing a secure, sustainable life for 20,000 people.
---
Dr. Bronner's certified Promise

100 % natural ingredients
Certified natural cosmetics 

Fair trade certified

From controlled organic agriculture

100% vegan (except Body- and Lip-Balm)

100% biodegradable

100% post consumer recycling
---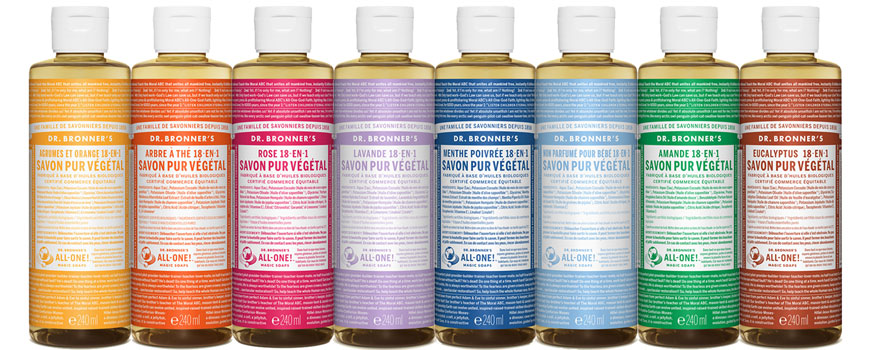 Liquid Soaps 18-in-1 - more than just soap!
You can use Dr. Bronner's soaps for washing your face, body, hands and hair, for bathing, shaving, brushing your teeth, rinsing fruit, aromatherapy, washing dishes by hand, doing laundry, mopping floors, all-purpose cleaning, washing windows, scrubbing toilets, washing dogs, controlling dust mites, and killing ants and aphids. Now, that's eighteen uses right there, but customers have told over time about many more uses they have found for Dr. Bronner's soaps. 
History
The Bronner family originally developed their unsurpassed soap formula in the South of Germany in 1858. Between 1880 and 1890, the family business expanded and opened a much larger factory. They invented the first liquid castile soaps and supplied public washrooms across Germany.
In 1929 Emanuel Heilbronner emigrated to the USA to realize his own ideas of modern soap making production. In the late 1940s, Emanuel Bronner began making peppermint liquid soap, and started Dr. Bronner's Magic Soaps in its current form. He gave away soap during his talks and when he realized people were taking it without listening to him speak, he started writing his philosophy on the bottle in tiny script, which is still used on Dr. Bronner's packaging today. Renowned for their quality, versatility and eco-friendliness, Dr. Bronner´s Magic Soaps enjoyed a small but loyal following in the early years. In the late 1960´s, however, soap sales started to explode. 
However, the brands reputation quickly spread to the mainstream making DR. BRONNER'S the number one-selling natural soap brand in North America.Today Hollywood stars like Sandra Bullock and Drew Barrymore are just two of the many loyal fans of Dr. Bronner's Magic Soaps.