---
There is nothing to hide in Manucurist Green Lacquer!
9 free - ingrédients of Ecological origin - vegan - cruelty free

Manucurist managed to achieve a formula with up to 84% natural ingredients. The remaining percentage guarantees the stability of the colour and its intensity on the nail.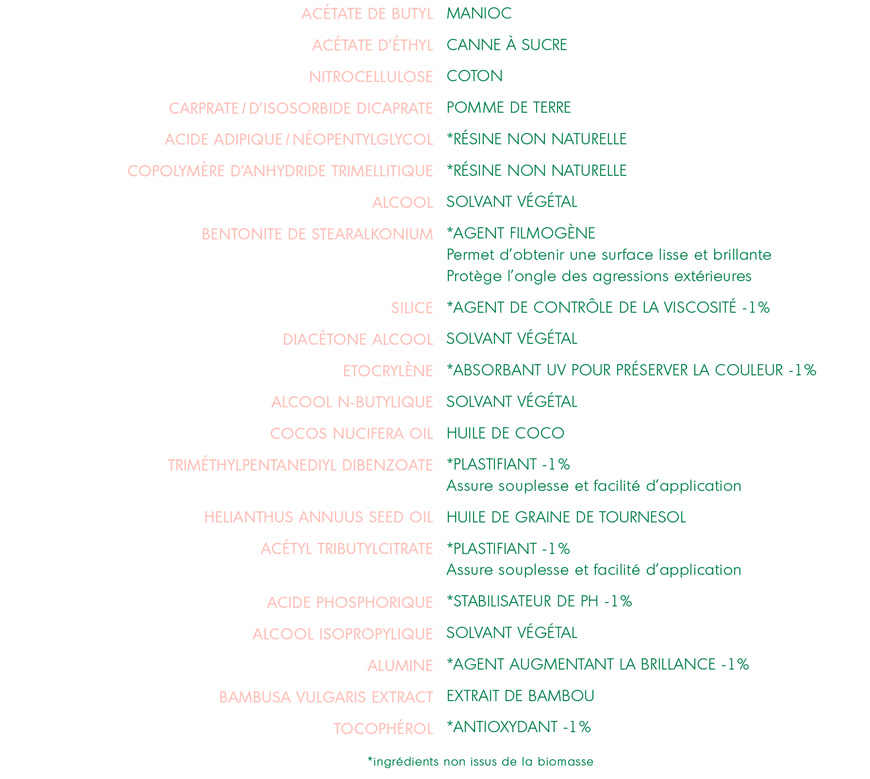 ---
Manucurist goes further with enhanced formula transparency...
Nitrocellulose is 80% biobased. It's sourced from COTTON.
The biobased plasticizer is produced from sorbitol, a derivate of glucose sourced from POTATO.
Ethyl acetate is obtained by  estérification of acetic acid and  butanol sourced from CASSAVA.
---
 
The 9 free formula of Manucurist GREEN Nail laquer is guaranteed  
FREE
of toxic ingredients such as toluene, DBP, camphor, xylene, formaldehyde (and formaldehyde resin, ethyl tosylamide, triphenyl phosphate (TPHP), Benzophenone 1 & 2 and styrene.
Manucurist natural nail polish is made in France. 
---